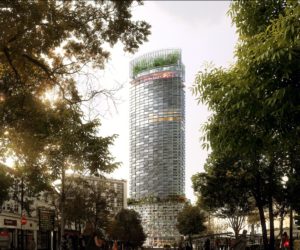 The Montparnasse Tower, in Paris,  will be totally renovated before the Olympic Games of 2024.
This renovation will give back to this emblematic tower a strong, innovative, dynamic and modern identity, while integrating the environmental challenge.
Nouvelle AOM was created for this international competition and won this project.
It brings together 3 agencies of 5 Parisian architects, Franklin Azzi, Frédéric Chartier, Pascale Dalix, Mathurin Hardel and Cyril Le Bihan. Designed to reduce its nuisance and its carbon footprint, the project is "reprogramming" the tower, so far almost 100% occupied by offices. The new Tower will host tourist areas, cafes, restaurants, a hotel, a nursery, a hanging garden or a greenhouse.
As part of the development of the facades of the new tower with the architects of Nouvelle AOM, setec is managing the structure and the fluids.