The world is undergoing profound changes, due to an increased awareness of the urgency of the climatic, ecological and energetic situations, but also a societal transformation, a quest for meaning and a balance between our values and our everyday actions. Since 1957, setec has been assisting society's major transitions through their expertise and ability to lead projects, large and small, often complex, always with the commitment of our teams. Today's transformations affect our conscience as citizens of the world and present extraordinary challenges for our engineering companies. We have placed our ambition as Engineers and Citizens at the heart of our strategic plan Transitions 2025
Michel Kahan, President of the setec group
---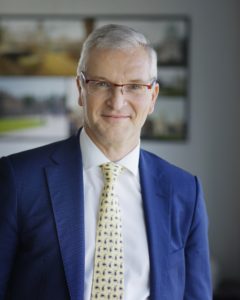 Transitions 2025 is a collective and realistic ambition that unites the entire group.
It is the backbone around which all the companies of the group are structuring their strategies in order to act in harmony and provide our "Engineering and Citizen's Responses to the challenges and major transitions of today and tomorrow".
Environmental concerns, digitalisation of our activities, international development: our environment is changing profoundly.
Faced with this observation, we have set ourselves a realistic and feasible objective of 2020-2025 to initiate the essential changes in our professions.
This vision on the role of engineering in creating a better world is reflected in four strategic priorities: leading our ecological, climate and energy transformation, achieving our digital transition, accelerating and structuring our international development, and cultivating our talents.
1. Leading our ecological, climate and energy transformation
On the occasion of setec's 60th anniversary, we asked our employees, particularly our young employees, about their aspirations for the future of the company.
Saving the planet, doing useful and responsible work was their almost unanimous response. This ecological wake-up call triggered a swift reaction at setec to our everyday eco-friendly behaviour and an in-depth reflection on how to change our activities and make our projects more virtuous.
We therefore set ourselves four challenges, starting with low-carbon design in the world of construction, decarbonised mobility, decarbonised energy, and the resilience of territories and their adaptation to climate change.
2. Achieving our digital transition
BIM, GIS, digital twins, artificial intelligence, machine learning, cybersecurity… Digital technological progress is revolutionising all sectors of activity. We want to seize the opportunities offered by these transformations and evolve our activities to bring added value to our projects and our clients, while respecting the environment.
This vision is reflected in four digital service offerings for our activities and clients: a territorial systemic vision, a digital process from design to completion, a digital twin for operations and maintenance, and digital management of our projects.
 3. Accelerate and structure our international development
To continue the international adventure of great projects, our ambition is to accelerate and consolidate our international development.
We are expanding our local offices, exchanging our expertise with local teams and carrying out projects that contribute to the well-being of local populations, while maintaining the same high standards of quality throughout the world.
 4. Cultivating our talents
We are convinced that the women and men who make up our company are the most valuable asset. We offer them a stimulating and empowering environment.
We promote the development of their skills within our Campus and encourage innovation.
Our organisation based on expert companies, which operate on a human scale, without undue hierarchy, and our independent nature, allow us to give our employees the chance to express their talents and to innovate so as to meet the challenges of major transitions.
I invite each and every one of our employees to seize the opportunities offered by the considerable challenges we face with determination.
I invite our clients and partners to help us, to encourage us on this journey and to join the adventure.
If you are motivated by this challenge, do not hesitate, and come and join us.