setec is participating in the construction of Montreal's REM (Metropolitan Express Network), the most important public transport project in Quebec for 50 years. An opportunity to gain visibility in a country where engineering needs are important.
Launched in 2016 and scheduled to come into service at the end of 2022, the REM is an automated metro that will link downtown Montreal and its suburbs, including Montréal's international airport, over a distance of 67 km. The project is being managed by CDPQ Infra, a division of the Quebec Deposit and Investment Fund (CDPQ), which was created to manage infrastructure projects. setec is working as a subcontractor to CIMA+ and Hatch on the feasibility studies, design, construction monitoring, testing and integration of the operating systems. Four people based in Montreal are mobilised, assisted by engineers occasionally from France. «We believe that our strength lies in the project-oriented mindset of our engineers and our ability to adapt to the realities of a project in a country where skills in transportation systems, particularly automatic systems, are scarce,» says Christophe Jehannin, Vice President of setec Canada.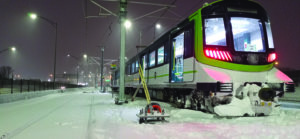 Excellence
setec is also involved in a tender for the modernisation and electrification of Toronto's commuter train network.
«Our consortium was not selected, but this gave us visibility with the major contractors and highlighted the quality of our services in a country where the needs are enormous and local engineering is not always able to optimise projects. Our area of excellence is strong expertise and an integrated global vision of systems and civil engineering,» explains Christophe Jehannin.
Four areas of development
The challenge for setec in Canada is to capitalise on these strengths to grow by recruiting local staff and developing services in four areas: transportation systems, complex civil engineering, materials engineering and infrastructure sustainability, and project management. «We have won contracts for the electrification of existing transport and bus networks for many years. We have worked with 7 of the 9 transport networks in Quebec; moreover, recently in Quebec, setec is looking to develop project management assistance for industrial clients such as Airbus,» concludes Christophe Jehannin ».
"Engineer at the lerm since 2013, I proposed in 2016 to the setec group, that I complete a PhD in Quebec City, Canada, with the aim of designing a platform that centralizes data to analyze and extract information contributing to the maintenance of civil engineering structures.
This is how the DATAE system that we operate today came about. This PhD was an opportunity to enter the Canadian market smoothly with academic credibility. Indeed, I was not a doctoral student like the others, since I also took on commercial missions of prospection and business.
After my thesis, I was housed for two years in Quebec City, at Simco.
This local engineering company works on the durability of concrete structures. By combining our on-site data collection with their software, we have developed a great complementarity in predictive maintenance that saves money and time.
This proximity between lerm and Simco also provides an entry point for other setec competencies: in 2021, Simco contacted us to work on a tunnel under construction in Slovakia.
For my part, after 5 years of this beautiful Canadian adventure, I am back in Arles".