For the second consecutive year, setec took part in the SIMI ( French Real Estate Trade Fair), which took place from the 6th to the 8th of December at the Congress Palace in Paris.
This annual event brings together the French real estate community in order to share innovations and projects to meet the needs of building and developing urban environments that benefit society. This year, there were 26,000 participants, 450 exhibitors, and 150 lectures.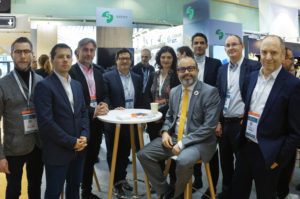 Among the participants were engineering companies, planners, architects, designers and metropolitan authorities, who presented their projects.
Each year, the SIMI is an opportunity for setec to meet with people involved in building the city of tomorrow and to discuss topics such as territorial resilience, sustainable territories and low-carbon cities. Our presence at the SIMI allows us to identify trends, so that we can better meet the expectations of different project owners.
Moreover, taking part in the SIMI allows setec to bring together, during one show, the services it can offer to the real estate industry, thus gaining significant visibility.
We look forward to seeing you next year, from the 12th to the 14th of December 2023, at the next SIMI edition!