This is the first autonomous mobility service put in competition by Ile-de-France Mobilités.  An innovative project of autonomous vehicles integrated into normal traffic. An innovative market too, whose performance indicators attribute an important part to the quality and relevance of the service offered as seen by the traveller.
 The setec group's intervention is part of a broader mission of assistance to Ile-de-France Mobilités for the development of autonomous mobility. 
Perrine Cazes, project manager of setec its tells us about this experiment of autonomous shuttles in the territory of Saint-Quentin-en-Yvelines.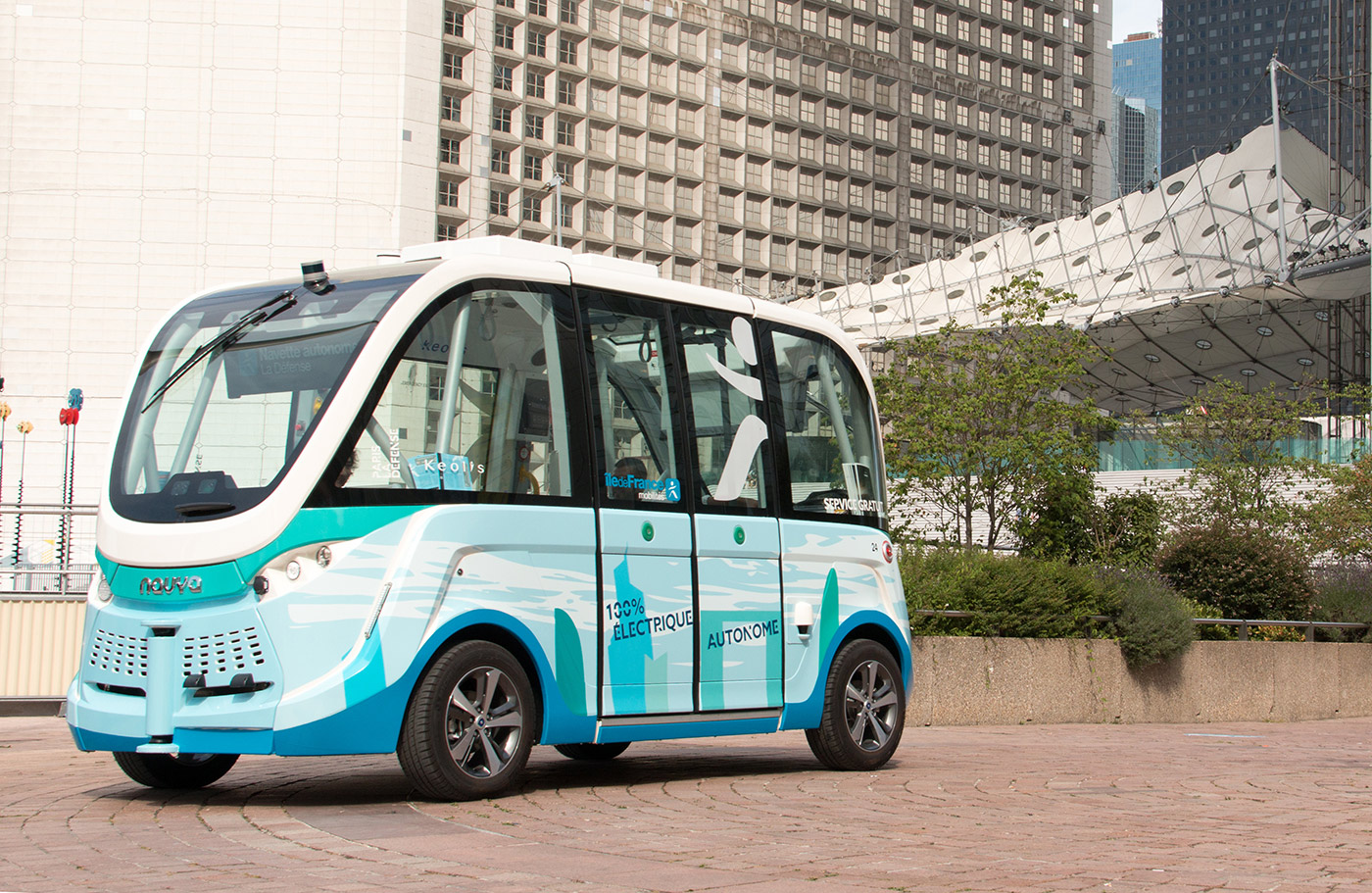 Photo credits: Saint-Quentin-en-Yvelines
Can you describe this project around autonomous mobility?
This is an experiment of autonomous shuttles in Saint-Quentin-en-Yvelines. Our intervention is part of a broader mission of assistance to Ile-de-France Mobilités for the development of autonomous mobility. Initially, we analyzed the interest of experiments in certain territories or intervened on specific expertise to support Ile-de-France Mobilités on the development of its policy related to autonomous mobility.
An experimental site was selected around the Saint-Quentin-en-Yvelines RER station in collaboration with the community.
It was from that moment on that setec its accompanied Ile-de-France Mobilités to design the parts of a public service contract, for the operation of autonomous shuttles, putting in competition the different operators, associated with the manufacturers of shuttles: a first in France. It was Keolis that was retained at the end of the proceedings.
More concretely, what is our role?
We are project management assistants for Ile-de-France Mobilités, in partnership with Adexel. We have produced the documents of the Business Consultation Package (CED). We also advised them on the procurement process. Given the experimental and innovative aspect of the project, several types of procedures could have been chosen. We helped Ile-de-France Mobilités to arbitrate according to the planning constraints and the level of innovation of the project. The idea was to propose a market that leaves some room for innovation without engaging in lengthy procedures.
Today, with Keolis being retained, we are currently in a more operational phase. We will now assist Ile-de-France Mobilités in monitoring the experiment. For the moment, we are in a preparatory phase for commissioning. For example, we help Ile-de-France Mobilités find a maintenance site for the shuttles and analyze the development proposals made by Keolis.
Which team is working on this project?
I am the project manager. Olivier Nau, project director, and Marjorie Ludet, study engineer, are also involved in the project. Other people will be called upon to intervene on the operational monitoring of the project over the next few years.
For me, but also in general, this is a very new project. There are few people who have the opportunity to work on such projects. There is a new side: "no one has ever done it". Intellectually, it's very stimulating to think about the different possibilities. However, we're not starting from a blank page either. We already benefit from several experiences on autonomous mobility, and we think by analogy with more traditional things: follow-up on trams, on buses, etc. We bring this professional expertise of the transport system by making the parallel with the new aspect of the autonomous vehicle. We have to change our methods to be able to adapt to this aspect.
How can we qualify this project as innovative?
It should be noted that autonomous vehicles are still underdeveloped, thus involving a broad innovation maneuver. There are also 2 innovative axes specific to this project. First of all, these autonomous vehicles will be integrated into traffic among cars and other means of locomotion, which is rare.
Another innovative, more administrative, aspect is the setting up of the market and its competition. This was our main role with Ile-de-France Mobilités. The market includes performance indicators with financial incentives, including on commercial speed. The criteria for awarding the contract included a significant proportion on the quality and relevance of the service offered to the traveller. This is the first time that such an approach has been carried out in the area of autonomous mobility, with a contractual arrangement approaching that of a «conventional» transport service and encouraging the operator to offer a service that really meets the needs of users. While of course keeping a certain flexibility because it remains a new and innovative approach.
Thus, Ile-de-France Mobilités wanted this project to mark a real advance compared to previous experiments in the field, by sticking as close as possible to reality and by offering a real service to users. For this experiment, it is a question of completing the existing transport network, going from the station to the office area of «Pas-du-Lac». Analyses were carried out to identify areas with little/no service to refine and complete this territorial service.
What is the status of the project and what are the next steps?
We are still in the preparatory stages before commissioning. An interdepartmental dossier authorizing the experiment has been submitted by Keolis and should be validated soon. The next step will be to monitor the operation in particular by helping Ile-de-France Mobilités to monitor the performance indicators of this new line: commercial speed, reliability, regularity of service, percentage of availability, etc.
We have designed a scalable market that can add services. For example, new itineraries serving venues during events or changing the hourly amplitude depending on the attendance. The idea is therefore to help Ile-de-France Mobilités follow this market and meet the different needs of users.